Online registrations and payments for events and classes
Your attendees want a quick, easy and convenient online registration and payment process. Corsizio enables you to provide all that, plus collect feedback, manage attendees and events, and much more.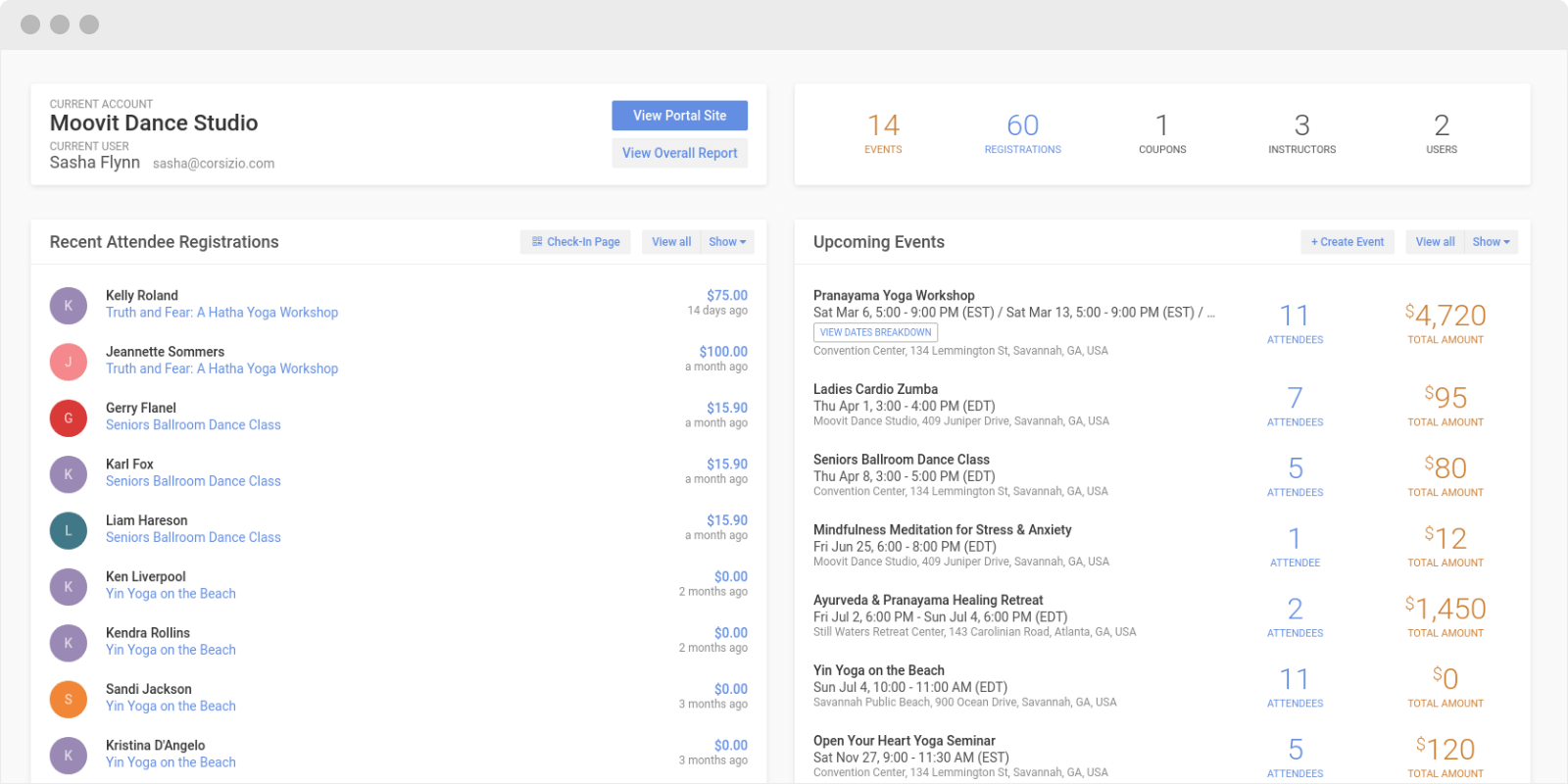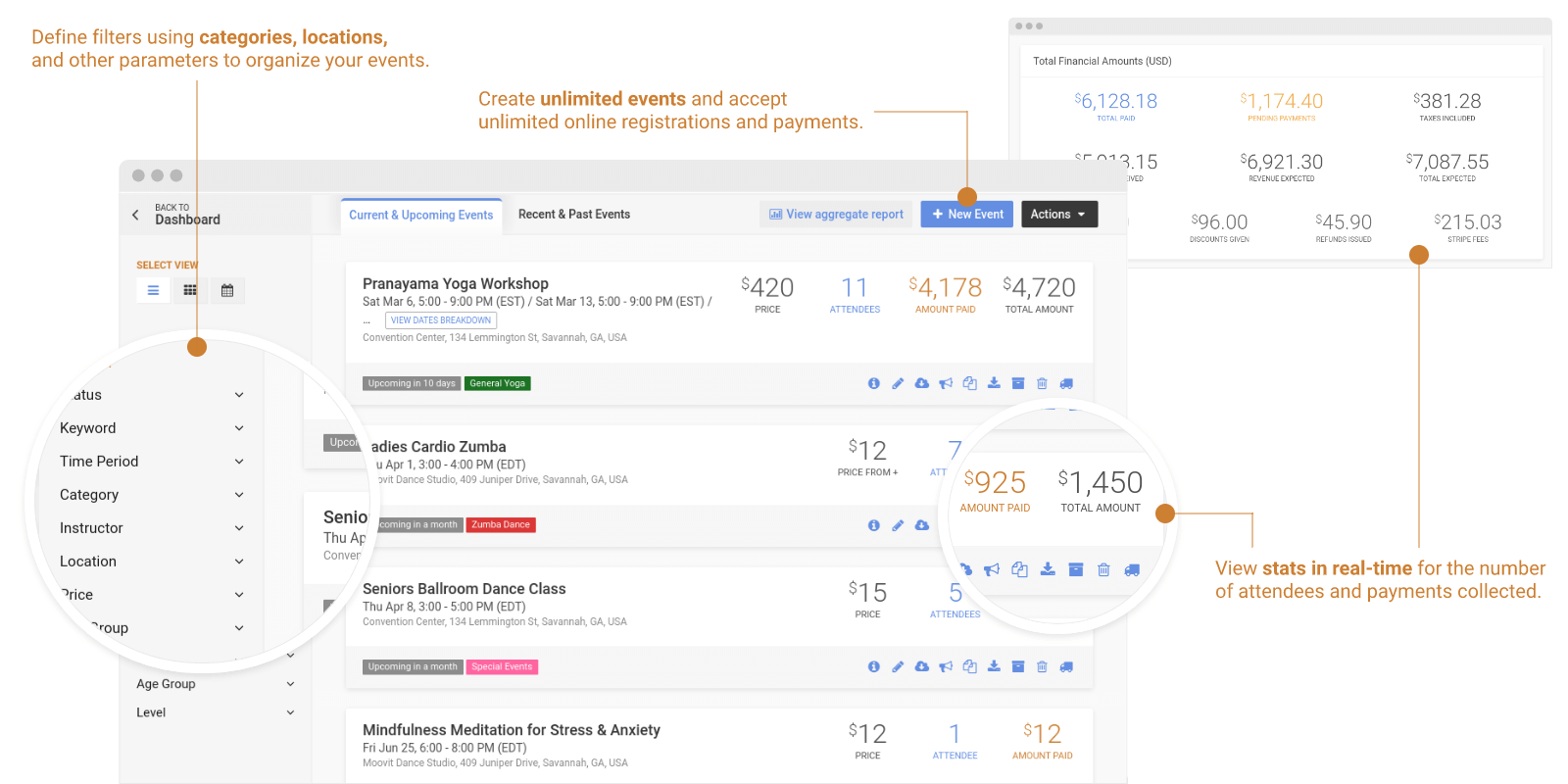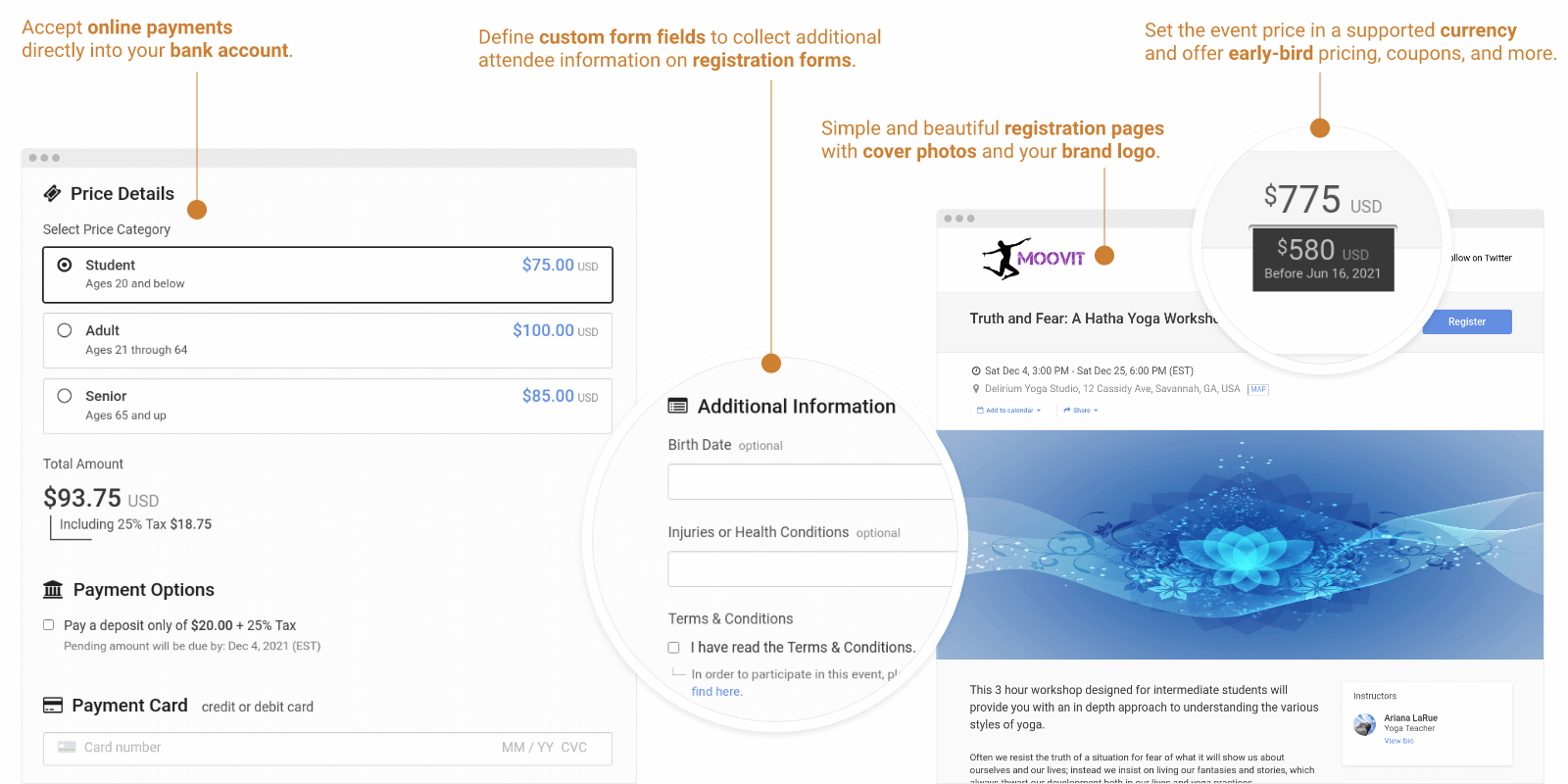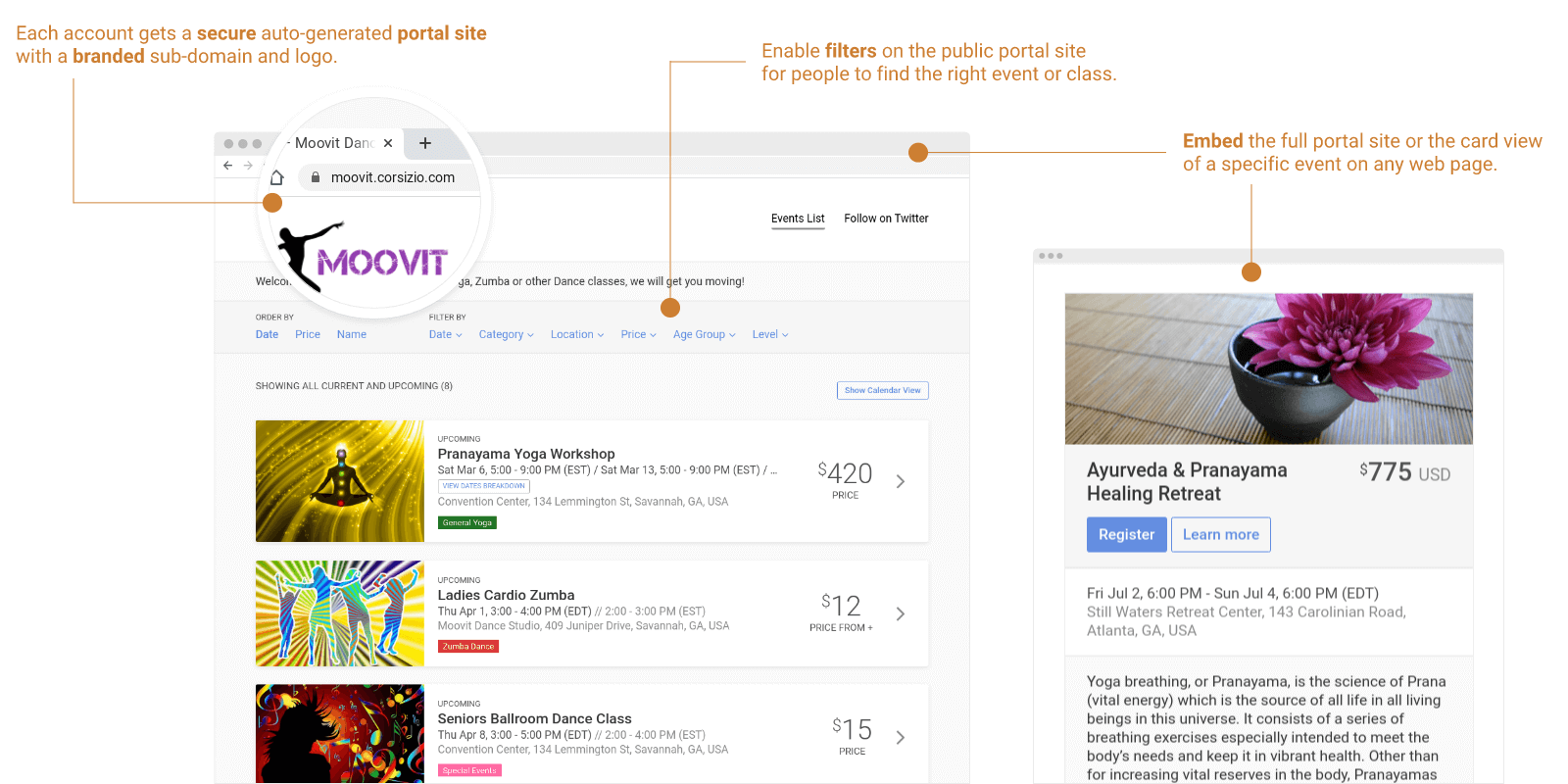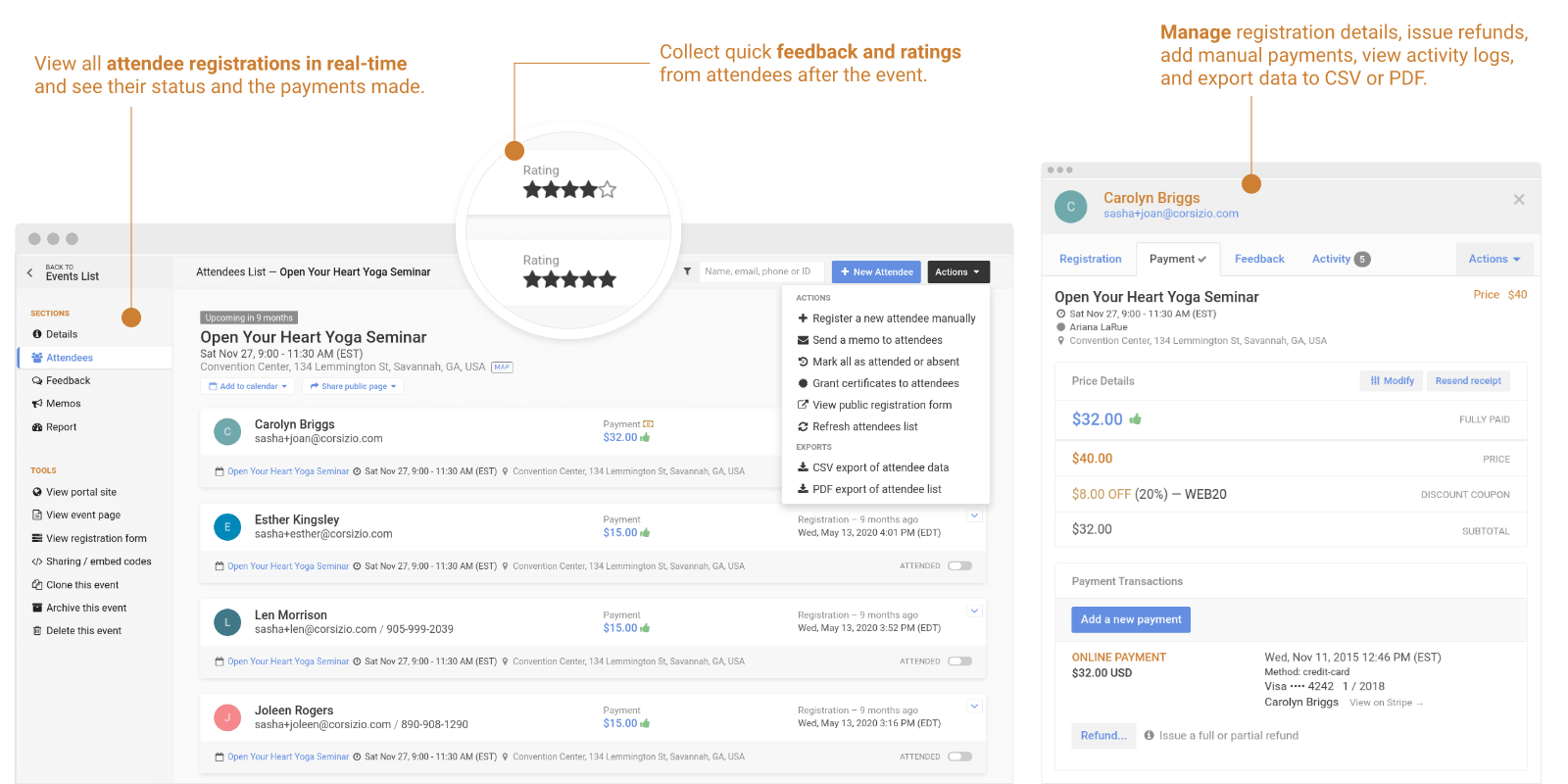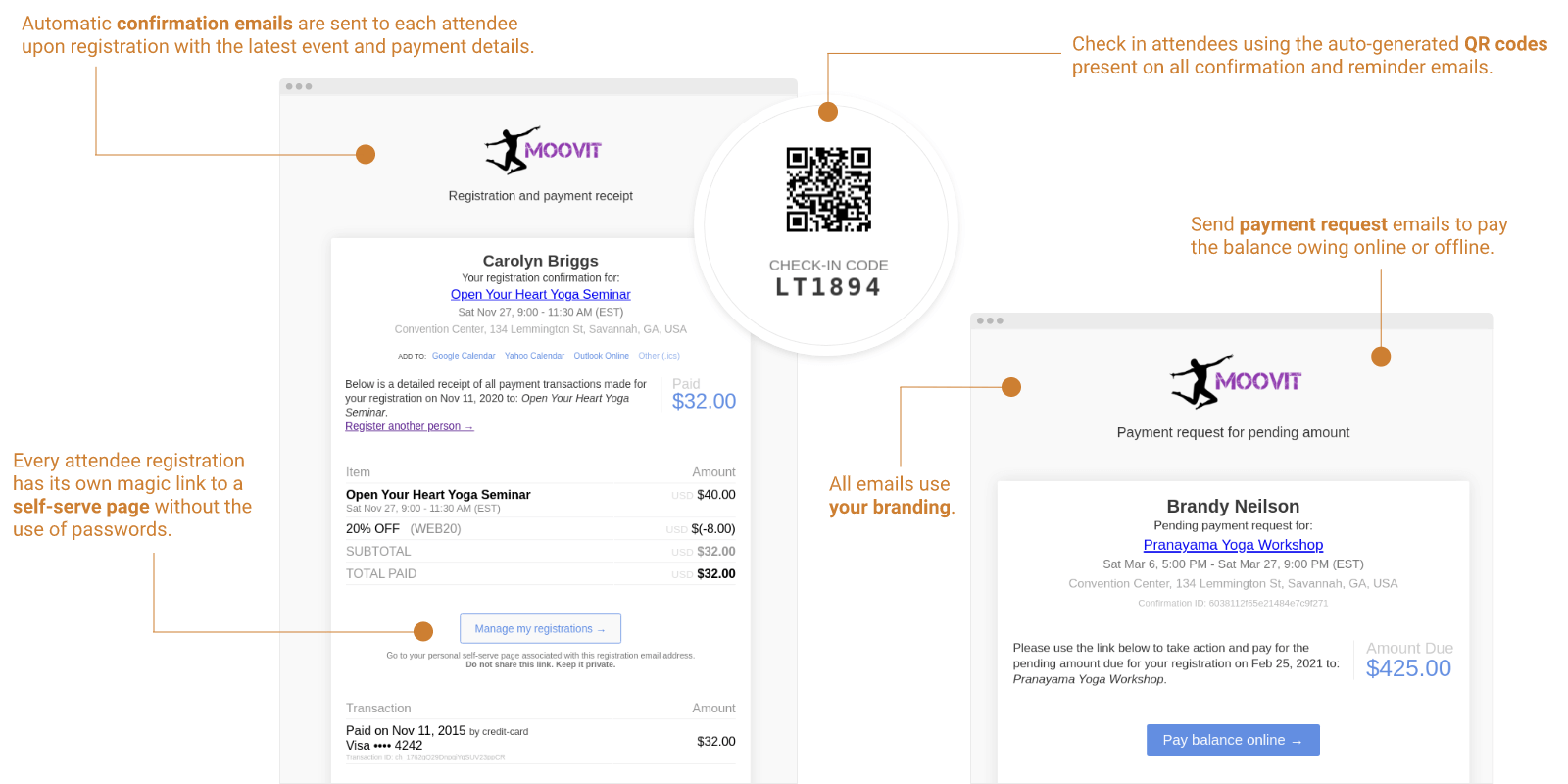 Summary of Key Features
Some of the key features we know you'll love about Corsizio.
Simple and beautiful registration forms with custom fields as a single-step flow.
Online card payments are directly deposited into your bank account using Stripe.
Easily enable waiting list, collect feedback, and grant completion certificates.
Full security with 256-bit SSL encryption on all pages, data, and payment processing.
Optimized for all modern devices — desktops, tablets, and mobile phones.
Set early-bird pricing, offer discounts, issue refunds, and collect taxes.
Auto-generated events public portal and registration pages with a branded web address.
Attendees can use your events public portal page to lookup listings by many filters.
Embed buttons and other registration widgets on any existing website.
Single or multi-user access along with managing multiple instructors.
Notifications are sent to attendees and instructors to keep them informed.
Manage attendees, track with activity notes, and export registration data.
Brand each listing with a custom cover photo and an overlay video.
Reports and stats related to registrations, attendees, and payments.
Integrate with Google Analytics, MailChimp, and Zapier for 3,000+ apps.
Who is Corsizio for?
Corsizio is built to facilitate online registrations, payments, and feedback for physical and virtual group events or classes, which are neither at the event-centric or attendee-centric end of the spectrum.
Corsizio is INTENDED for a wide variety of events, classes, courses, lessons, workshops, seminars, training sessions, activities, and similar physical and virtual events from any industry that publishes their events publicly and desires quick and easy online registrations.
Corsizio is NOT intended for events that require event-centric features, such as large concerts, which rely on shopping cart features without the need for any attendee data.
Corsizio is NOT intended for events that require attendee-centric features, such as school programs, which provide private events where attendees need to have their own accounts to view and register for the events and manage their own info, payments, and schedules.
Below are examples of individuals and businesses that would benefit from using Corsizio:
Corporate, public, and private internal training workshops and sessions
STEAM (Science, Technology, Engineering, and Math) camps and schools
Tech and software professionals providing seminars and conferences
Art teachers or studios providing classes and workshops
Language teachers providing lessons and courses
Teacher training institutes providing programs and retreats
Holistic teachers or retreat centers providing presentations and events
Wellness teachers or fitness instructors providing classes and sessions
Yoga teachers providing independent classes and workshops
Dance teachers or studios providing lessons and programs
Music teachers providing classes and courses
Chefs and nutritionists providing cooking demos and food classes
Gardening and permaculture experts providing workshops and programs
Outdoor activity organizers providing trainings and excursions
Any educator that needs online registration, payment, attendee management, and feedback for their events
Learn more about the intended use for Corsizio and how it differs from other systems.
Why should I use Corsizio for my events?
To collect registrations and payments for your events, you may use in-person or online registration and payment collection methods.
In-person or offline methods can create lots of administrative and unnecessary work given that there are automated ways to receive registrations and payments quickly, easily, and securely today. They can hinder proper record keeping and make it challenging to have comprehensive analytics and reporting. They can also be impractical for your attendees. This is where Corsizio helps to decrease the work and friction related to event registrations and payments while enhancing the overall experience for the event organizer and registrant.
Here at Corsizio, we strive to provide all of our customers with just the right tools and functionality to enable them to succeed in collecting online registrations, payments, and feedback for all of their educational events, including the following:
We have the most competitive and optimized pricing in the industry with free usage and pay-per-use options.
You get to manage your events and attendees efficiently within a modern, easy-to-use, secure, and scalable platform.
Our fantastic customer support is available to all of our customers, regardless of their usage.
We align our goals to match yours — help you keep your costs of accepting the most registrations for the lowest price possible — and grow with you.
How is Corsizio different from other online registration and payment services?
At Corsizio we firmly believe that the best results come from using the right tool for the right job. There are many online registration and payment services available to you today, but they do not all operate in the same way or offer the same features, value, pricing, or user experience and satisfaction. There are also different services for different types of events. For example, concerts and festivals require a different event registration and payment approach than courses and classes. The former events benefit from a ticketing service provider, which Corsizio is not. We specialize in educational events, which necessitate a certain degree of attendee data and record keeping. We are also an event-centric platform rather than an attendee-centric platform. This means that everything revolves around your events, and your attendees do not create their own accounts or manage their own events.
Corsizio uses leading-edge technology and provides a modern, attractive, easy-to-use service and user interface. It is an ultra quick and responsive service, which also uses real-time technology for instant updates when new registrations or payments come in. Some similar services have been around for many years and in turn, use outdated technology, have a cumbersome user interface, or are simply complicated to use and require timely technical support. We also have the most competitive and optimized pricing in the industry with free usage and pay-per-use options.
Finally, Corsizio does not require you to have a traditional business merchant account with a bank. It uses Stripe to enable you to accept payments directly into any personal or business account. Also, unlike other services, Corsizio does not hold your money in an escrow account, or until the event is over. You receive your funds right after the transactions have been processed on a 2 to 7-day rolling basis depending on your country and set preferences.
Learn more about the intended use for Corsizio and how it differs from other systems.
Can I get a demo of the platform?
Corsizio is focused on online registrations and payments for physical and virtual group events, classes, courses, and workshops. It operates as a self-serve platform with no traditional software demos, installations, or training. We provide all of our users with:
Sample data in each new account, which you can experiment with and experience the platform and its functionality
An extensive help docs library, which includes screenshots to provide you with previews of the interface
If you need an efficient solution to accept and manage online registrations and payments for group classes, and in a very cost effective way, then try out Corsizio and use the sample data within the account to see if the platform is a good fit for you. You can create events and test out the registration process to evaluate the service fully. It is super easy to create an event, link to its public details page or embed its details card on your website, accept registrations and payments with automated email confirmation receipts, and view and manage all attendee registrations in one place.
It is free to create an account and explore all of its features. Everyone gets access to all the features on the platform, and low-volume usage is always free. We provide you with full ability to delete your account entirely at anytime too. There are no monthly pricing plans to subscribe to or any commitments or obligations.
Below are some helpful initial resources to see if Corsizio is a good fit for your needs:
What if I have other questions or need help getting started?
Please visit our help documentation site for detailed help docs on many topics and to learn how to optimize your use of the many features within Corsizio.
We are also here to answer any other questions you may have. You can contact us at this address with your questions or feedback regarding Corsizio. Our email support operates during business hours in Eastern Standard Time. Sorry, we do not provide any phone support. Learn how to get help and support.
Used in over 20 countries by thousands of happy customers.
We LOVE Corsizio! It is the BEST training registration site there is for our faculty training needs at the University of Colorado Denver.
Amy A. — Academic Professional Capterra review
Corsizio has allowed us to become a consistently unique and influential entity in our area, and we truly thank you.
Aaron E. — Illustrator / Sculptor Direct feedback
Unbelievably high-quality registration system perfectly suited for higher ed events.
Mike D. — Assistant Director Capterra review
Best pay-as-you-go registration software I have come across.
Chakra W. — Proprietor Capterra review
Great service with excellent support. Simple, affordable, customizable, best customer service.
Ilian I. — Health & Fitness Manager Capterra review
Excellent. I could not be more happy than I am with the quality of service and features of Corsizio.
J.S. — Therapist / Educator Capterra review
Gartner Digital Markets reviews are shared across its different brand sites and constitute the subjective opinions of individual end-users based on their own experiences and do not represent the views of Gartner or its affiliates.
In minutes you can start managing and accepting online registrations and payments for your physical and virtual events, classes, courses, and workshops.
Have a question? Read the FAQs or visit our Help Site to ask us.